One
I have purchased all of my Christmas presents - which must be a record for me. Plus last weekend H got most of his which is surely a record for him! So I feel smug. Then I stop feeling smug when I look at the mountains of presents I have to wrap. I have a bit of a tradition whereby I stick on Love Actually, pour myself a glass of wine and spend the evening wrapping up my gifts. I try and keep it as peaceful and as calm as possible!
Two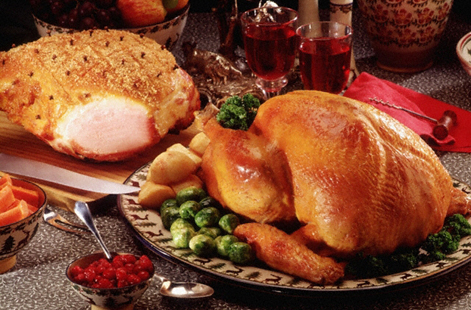 I have also ordered the Christmas meat - a ham and a turkey. I always want to try goose but then I worry that if people didn't like it then Christmas dinner would be ruined. I have to confess I don't cook the feast itself - my brother takes on that challenge and he is AWESOME at it.... I will be making these for the starter / canape - perfect with a glass of champagne!
Three
Check out these vibrant colours! I went a bit Mexican this week and shared some fresh and easy recipes for fish tacos and courgette quesadillas - check them out! Anyone else created something ace in their kitchens this week?
Four
I've been thinking about my Christmas outfit this year and is it a bit odd that this is by far my favourite thing I've come across. And its for kids. Man, I love petticoats and I love stripes! Even the pigtails I feel are inspired!
Five
We are going to my friend Lulabelle's for a Christmas party on Saturday and I am taking ingredients for a Christmas Cocktail - the one I have linked to uses pomegranate but I will make it with cranberry juice.
1 part cranberry to 2 parts prosecco with a squeeze of lime.
I'll also make some ginger fizzes:
piece of stem ginger, 1 tsp stem ginger syrup topped up with prosecco
Christmas is well and truly on its way!
So many Friday link ups! Happy to be linking up with these lovely ladies!